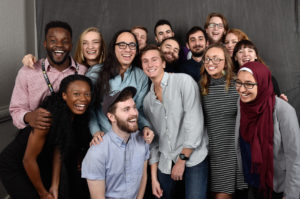 The Northern Short Course is looking for current college students and recent graduates to join our team of volunteers for the 37th annual program in Fairfax, Va. from March 1-3, 2018.
This three-day event is packed with more than two dozen workshops on a variety of topics relevant to professionals and students in the field of visual journalism. Attendees can connect with industry leaders, as they share their work and discuss what makes them successful. Choose from a range of workshops and lectures on topics such as business practices, multimedia, lighting, long-term projects and more.
The NSC is great chance for students to network and get feedback on current projects. Volunteers can sign up for free one-on-one portfolio reviews from top photo editors and photographers.
Our volunteers are the lifeblood of the Northern Short Course. They assist in setting up speaker rooms, running registration, documenting and marketing the event and much, much more. In exchange they will receive free admittance to the NSC, and hotel rooms and meals are provided.
Volunteers must be available from Wednesday, Feb. 28 through Sunday, March 4 and are responsible for their own transportation to and from the conference in Fairfax, Va., just outside Washington, DC.
To apply, please send your resume and a cover letter detailing why you would like to volunteer and what you hope to learn at the NSC to Natalie at nscreg@gmail.com. The deadline for applications is Monday, Jan 22, 2018 at midnight, but preference is given to early applicants.
Please include what college you are attending and your year of study or expected graduation. Applications will be accepted through Jan. 22, 2018.