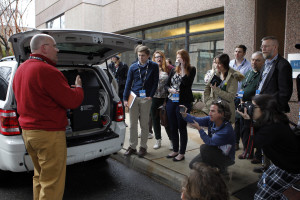 TV News is changing fast. How it is delivered and what constitutes news is changing with it. How will you adapt to new technologies, new audiences, and new demands on your skills?
Get a fresh perspective on the building blocks of TV news storytelling. Come watch outstanding stories by great photojournalists.  Learn new tricks. Diversify your skills to be a better job candidate. Be a team leader in today's newsroom.
Story critiques start at 8 p.m. Friday night, March 2.  The Saturday video storytelling lecture series offers a full day of sessions with the best TV storytellers in the business.
In addition, still photojournalism and multimedia training workshops run Thursday and Friday in basic storytelling, editing, video storytelling, audio, lighting and business practices. This is excellent professional development for a great price. Walk-ins are welcome.
The entire Northern Short Course program includes excellent still photojournalism and multimedia training workshops on Thursday, Friday and Saturday. Take a look at our list of workshops and speakers.
Questions? Contact: 
Bob Davis, TV Program Co-Chair, WCAX-TV,(802) 343.7197, davisb@wcax.com
Sean Filburn, TV Program Co-Chair, RT-TV Washington, sfilburn@gmail.com