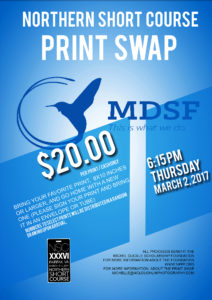 If you are coming to the 36th annual Northern Short Course, then you'll DEFINITELY want to participate in our Print Swap to benefit the Michel duCille Scholarship Fund!
Bring your favorite print (8×10 or larger), sign it and show up at 6:15 pm on Thursday, March 2nd for the fun! A $20 cash-only contribution gets you in the door and numbers to select prints will be drawn in random order at the start of the event.
All proceeds benefit the Michel duCille Scholarship!
The Michel duCille Memorial Scholarship commemorates the life of Michel duCille, a Jamaican-born American photojournalist and winner of three Pulitzer Prizes during his career at The Miami Herald and The Washington Post. DuCille passed away on December 11, 2014, while covering the Ebola crisis in Liberia on assignment for The Washington Post.
Honoring duCille's humble beginnings and commitment to storytelling, this scholarship will be awarded to someone who could not otherwise afford to attend the Northern Short Course (NSC). The award of $750 (US) to go towards travel and lodging, plus a three-day complimentary registration to the NSC, will be given to one photographer, student or professional.